Caprese Salad 'Shots'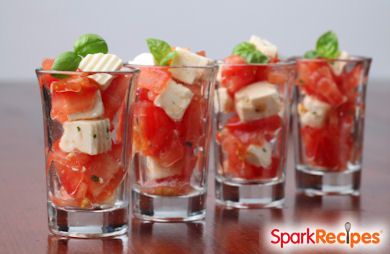 Minutes to Prepare: 10
Number of Servings: 8
Ingredients
2 large tomatoes, chopped
4 ounces (1 cup) mozzarella cheese, cut into cubes
1/4 cup fresh basil, shredded
1 T olive oil
1 T balsamic vinegar
black pepper
Tips
Serve with toothpicks .
Directions
Combine all ingredients in a large bowl, then layer into shot glasses.
Serving Size: 8 servings; 1 shot each
Number of Servings: 8
Mini Vegetable Frittatas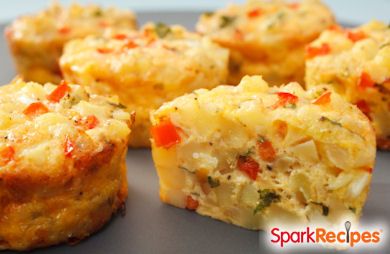 Introduction
Make this ahead of time and then refrigerate for a quick, protein-packed breakfast that's also portion-controlled. Top with salsa (optional) and serve with toast for a complete breakfast.
Minutes to Prepare: 15
Minutes to Cook: 15
Number of Servings: 9
Ingredients
5 eggs
2 Tbsp low-fat milk
1 cup diced tomato
2 oz. goat cheese, crumbled
2 cups chopped broccoli, fresh (or frozen and thawed)
salt and pepper to taste
Directions
Mix eggs and milk in a bowl. Add crumbled goat cheese and chopped vegetables. Season with salt and pepper.
Spoon mixture into muffin tins coated with cooking spray.
Baked at 350 degrees for about 15 minutes or until "set" and golden on top.
You can refrigerate and reheat these in the microwave for a quick breakfast or snack. Microwave on high for approximately 30 seconds. Serve warm.
Makes 9 "mini" frittatas.
Number of Servings: 9
calories per serving: 71.3
Asparagus and Shiitaki Mushroom Frittatas
Ingredients
-6 eggs
-1 tablespoon EVOO
-1/2 tablespoon garlic
-1/2 cup shiitaki mushrooms, sliced
-1/2 cup chopped asparagus, quartered
-salt and pepper to taste
-2 tablespoons milk
-3 tablespoons grated cheese (your favorite kind!)
Instructions
First, preheat oven to 350F and spray a 6 tin muffin tin with nonstick cooking spray.
Next, in a large sauce pan, heat 1/2 tablespoon of garlic in 1 tablespoon of EVOO. Then, sautee asparagus for about 4 minutes, then add in mushrooms for an additional 3 minutes or until they have both softened up a bit.
While the vegetables are cooking, whisk together 6 eggs and 2 tablespoons of milk.
Next, divide out out the veggies into the muffin tin. Then, pour egg on top, filling about 3/4 of the way. Season with salt and pepper to taste and sprinkle on your favorite kind of cheese.
Bake at 350 for about 25 minutes or until the eggs have set.

---
Permissions in this forum:
You
cannot
reply to topics in this forum